20
03
2007
I received 2 emails today yesterday telling me that the official websites of the Spanish hotel chain AC Hotels had been banned from Google! Well, this won't be the first time it happens to a big company, in fact depending on the changes of Google's algorithm during the so-called Google Dance, many websites can be left behind for usually two main reasons: Poorly designed websites (from a SEO perspective) and/or abuses of SEO techniques..
A lot of companies do not have a clue why they have been banned or penalized from Google index. That's why I will approach the case of "AC HOTELS" from different angles that respect the following assumption: "Banned from Google= Not Spidered, Not Ranked, Not Indexed"

Are they still present in Google index?
Let's see if AC HOTELS website is still indexed in google database with the simple command site:www.ac-hotels.com (same thing for the second website site:www.ac-hoteles.com)

As you can see (click the link for a bigger image) the response from Google is negative. Google does not have information about those sites besides (part of) their backlinks.
Are still present in Yahoo and Msn?
Having a look at (the highly recommended) Yahoo "Site Explorer", the same type of query reveals that their two official websites are indexed and it also gives us a list of all their backlinks (=inlinks).
Yahoo Site Explorer says:
AC-Hotels.com: Pages indexed: 26 / Inlinks for this url only (except from this domain): 2,576
AC-Hoteles.com: Pages indexed: 9 / Inlinks for this url only (except from this domain): 2,001
Msn Search says:
AC-Hotels.com: 16 pages / 4,533 Inlinks
AC-Hoteles.com: 20 pages / 1,176 Inlinks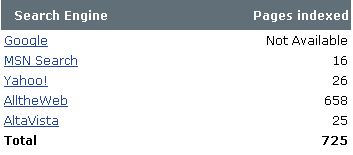 This screenshot shows us that there are very few pages of AC Hotels indexed in Yahoo and MSN (some of them do not exist anymore) . The good is that Yahoo gives us more information about the backlinks network of the site; this information is helpful in order to understand the "banning issue". It really seems that Google, for its part, has decided not to index those 2 domains anymore for some reasons.
Why AC Hotels website has been banned by Google?
First of all let's have a look at the 2 websites carefully.
It doesn't take long to understand that the 2 sites are not "SEO friendly"! Indeed there are both developed with the exact same structure using Flash! This is a basic mistake of websites that totally rely on flash. Flash may look good for the visitors, but unfortunately Search Engine Spiders (automated crawlers like googlebot) are still not able to read precisely (or browse easily) Flash content. In this case googlebot does not see anything, not a single link or word.
Note: Google is able to read flash BUT it needs advanced SEO techniques to be able to position well a flash site in search engines. Most of the time webmasters reproduce the entire website in pure html "behind" the flash content just for the love of spider bots.
If Google missed the Flash content, it did not miss the Meta Keywords and Meta tags proposed by the page that loads the flash; keywords and meta descriptions are shown below:

Note: Those are the exact same keywords and meta descriptions for the two sites that also have the exact same title: "AC Hotels: Hoteles AC en España, Italia y Portugal"
Note2: It seems that AC Hotels is currently making changes to their sites, the Meta Description has been reduced as shown below:

So guess what: Google sees all those keywords in the meta tags but unfortunately the spider is not able to locate any occurrence of those keywords in the content of the website (it's a big no no!). People who put keywords into the meta tag that had nothing to do with the content of their site are severely penalized by Google.
The same applies for the following subdomains that redirect the visitors to the same flash frame with different keywords but still with no content for the spiders:
hoteles.barcelona.ac-hotels.com
hoteles.granada.ac-hotels.com
hoteles.madrid.ac-hotels.com
hoteles.sevilla.ac-hotels.com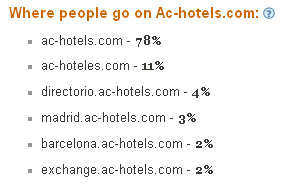 A quick look at Alexa tells us that 4% of the traffic comes from directorio.ac-hotels.com. This subdomain does not use any flash file; it is a basic directory of hotels that spiders will sure understand and indexed. The use of the directory is obvious! There is no browsable sitemap on the rest of the site, thus there was a real need to optimize and help users (and spiders) to find the right path to the content. Interlinking webpages is not an abuse if it is done properly; according to Google it can be done if it really helps to guide the visitors to navigate the website..
Now let's have a look at the IP who hosts those 2 main websites of AC Hotels. A reverse IP lookup gives us the full list of domain names hosted by the same IP; a total of 92 domain names all owned by AC Hotels.
A quick overview of those websites brought to my attention the fact that they all have the exact same structure, with a flash integrated into a frame and a background that are both hosted on www.Ac-hotels.com Same approach, same results! Spiders can't crawl the content of the sites thus almost none of those sites is indexed in Google. I said "almost" because hotelcuzco.net is the only site from the 92 that is still indexed by google…
Is there any duplicated content? Indeed and it is a major SEO error; Ac-hotels.com, org, biz, info Ac-hoteles.com, net, org, biz, info and ac10hotels.com have the exact same content (meta keywords, description, content)! Ac-hotels.com has been penalized for not being able to determine a central main site inside a network of domain names to the eyes of search engines. For google it is duplicated content as Google think people intends to position as many webpages as possible in the pages of results to get better visibility. Also, the website of each hotel from the chain get the exact same structure and link back to Ac-hotels.com. That explains why every single hotel website has been penalized too.
Solutions?: Using the permanent 301 redirections on those 10 sites to the main site; and providing a different readable structure of each website, so Googlebot can notice they are indeed all different.
As a matter of fact Google intensively struggle against duplicated content since the beginning of 2006 and those 10 websites are no exception in Googlebot's eyes.
Page rank? Even if google does not indexed anymore AC-Hotels.com, the domain name still has a Page Rank of 6/10 and a page rank of 4/10 for the asp page that run the Flash content. Usually Page Rank updates take a lot of time, so we can easily predicts that next update will show a 0/10.
AC-Hotels.com's websites still have backlinks and still have a PR (as of 19/3/07) ; however we saw a lot of indicators that explain why Google algorithm has taken the decision to ban or penalize AC Hotels' websites (duplicated content between domains, keywords stuffing, no spider friendly content, excessive inbounds linking from the same IP etc).
I would advise AC-Hotels to correct every single problems as fast as they can so they can then quickly file a reinclusion request to Google to be able to enjoy again traffic from a organic results. In my opinion there were no intention from AC Hotels to misbehave abusing SEO techniques but one may ask: Where is the boundary between optimization and SEO abuses? That's a question SEO companies keep on asking themselves, and that's why we pay them for.
PS: AC-Hotels can still count on other domain names to drive traffic from Google. Those domain names have a different design and are registered under a different IP. They are indexed by Google.
Related posts: