2
04
2008
I've always wanted this feature for "Blog on travel" since Google launched "Google Talk"! On our Chatback page our readers are now able to request a live chat with us.
There is no need to install Google Talk as your chat client is your browser (firefox, opera, internet explorer, safari). If we are signed in to our Google talk account, the badge will show a green icon. Clicking on the badge will launch a real time chat window. It generally takes a few seconds for us to accept the chat then it goes like this: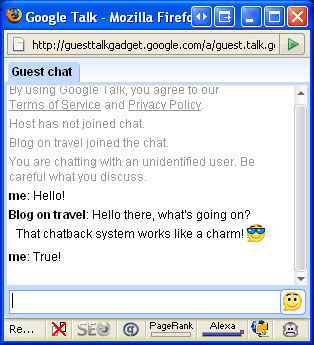 The conversations are private and only one-to-one, so other visitors won't be able to read them. Do not hesitate to say hello if I'm available.
- For those who want to add this free feature to their own blog (or website!), first they need to register to Google Talk and then they need to create a Google Talk chatback badge. Copy the script and paste it to the page of your choice. You're done. Enjoy.
 PS: Blackberry owners (some of my friends and readers) might be interested in downloading the Google Talk app that blackberry released.
Comments :
3 Comments »
Categories :
Blogs
,
Google
,
Google related