21
05
2007
Here is an interesting interview of Thomas Owadenko that Loic Le Meur just uploaded on his blog. Thomas is the CEO of the new travel 2.0 site called Trivop.

[vpod.tv loiclemeur/200710]

Trivop.com is a very good example of a good use of web 2.0 in the travel industry. It is a platform of video reviews of hotels (located in Europe and then in the future in the US).Like I said in the past, the future of hotel reviews is strongly connected to the future of online video; we previously saw the impact of a simple video uploaded on youtube to report a poor hotel room in Madrid. We also saw Tripadvisor launched a video uploading feature on their website to follow this (hotel) trend.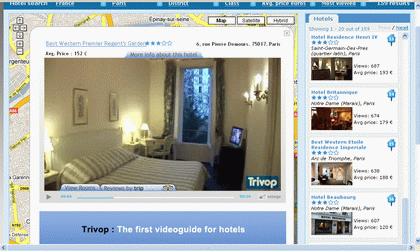 Now we have a dedicated website only for hotels which combined a mashup of Google maps, Tripadvisor text reviews and videos generated by hoteliers and guests.In the video Thomas says that it will be focused on hotels for the first 3 years, Trivop does not have a real competitor since there is no other 100% similar site. However it might somehow compete with videos of websites like Youtube, Google Video, DailyMotions etc. and also with sites like www.travelistic.com that have a wider approach and publish video content for everything related to travel.
When Trivop has been launched at the beginning of April 2007, it already had filmed and uploaded about 170 videos of hotels. Trivop will also intend to create a marketplace community where video producers could meet the demand for video of hoteliers.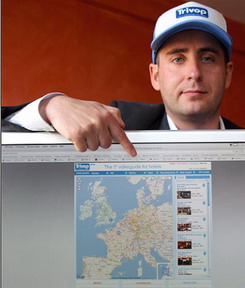 During the interview Thomas says that not only the hotelier can upload a video but also the guest. As of today I have not been able to find a video generated by a guest, but only video "ordered" by hoteliers, with a very good editing by the way. The only negative comment I would make is that there is no way you can control the playback of the video other than using the pause button. Videos are played sequentially (divided into segments: lobby/standard room/suite etc) just as if you were watching plain old television. When deciding what hotel I want to book, I have a limited available time for making my choice. I need to compare hotel prices, hotels reviews and so on; watching each segment (of about 50sec to 1min40) without having the choice to fast forward the video is time consuming.
In my opinion the challenge for Trivop will be to generate revenue by proposing their services as filmmakers for hoteliers while they offer a free platform for guests to upload their "videos reviews" that could criticize and hurt their own clients.
Anyway I found that the concept of Trivop is innovative and useful for travellers and I wish them the best of success.
Comments :
8 Comments »
Categories :
Hotel directories
,
Hotel portals
,
Hotels
,
Interview
,
Reviews
,
Travel
,
Travel 2.0
,
video