1
05
2007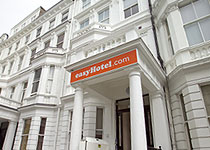 "Art Du Service", a french blog that talks about the service sector in general (with a focus on services in the tourism, telecommunication and banking industry) stayed at the Easyhotel of London and came back with a candid video of the room.
easyHotel brand is part of a larger group known as EasyGroup which also holds easyJet, the famous budget airline mostly known in Europe.
Check below the amateur video of the easyHotel London South Kensington. You will see that the bathroom is as tiny as the toilets of an easyjet aircraft!
For your information, he booked his room online, willing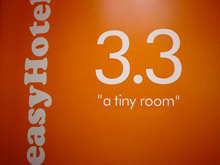 to pay 10 pounds (about 15€) as advertised. In the end he paid 60 euros, his credit card was instantly charged . His room did not have any window, there was only one towel (an extra towel would cost 1 pound at the reception) and a soap; the room came with a TV but you need to buy a remote control from reception (£5 for 10 channels for 24 hours). There is no bar, no restaurant in the hotel.
easyHotels definitely target people in need of a cheap bed … and only a bed! In this case Bruno paid 60€. It's quite a low cost budget for a hotel in London but maybe there are hostels (with more services) that could compete with this rate.
I just did a search for a hostel centrally located in London on www.Hostelworld.com; I found a private double bedroom in the Smart Hyde Park View hostel (50 meters from Hyde Park) for about 47 pounds with a lot more services included in the price (internet access, full english breakfast, linens, locker, towels, tea making facility, color TV, luggage storage). Besides this it has a 24hours Lounge Bar.
Comments :
6 Comments »
Categories :
Hotels
,
Low-cost airlines
,
video