1
08
2006
I found a great site these days indexing all the hotspots of the world (tough job!). The site currently claims to list 118,776 Wi-Fi hotspots in 128 countries.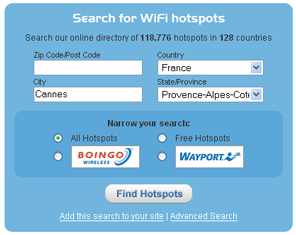 You can search WIFI connections by location, and filter the results by:
Hotels/Resorts 
Restaurants
Airports
Cafe
Office buildings
Beaches
Convention centers
Marinas
The results show the name of the Wifi providers, the type of wifi connection (802.11b  802.11g) and free hotspot are highlighted. You can display a map with all the hotspots close to the one selected like shown below (in the example I have selected Cannes (France) hotspots: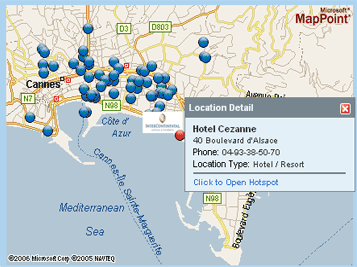 I found out that the map was too small to be efficient at locating a hotspot from a hotspot concentration; it's like looking for a needle in a haystack. There is no zoom available in this map provided by Mappoint.com (Advice: Google Map Api is available for free, you can zoom all day long without any cost). Anyway this website is worth the try and can sometimes be very helpful.
Comments :
3 Comments »
Categories :
Wifi