17
08
2006
Travelres.com (powered by hotel.de) has been officially launched in order to expand hotel.de activities internationally.
Althought hotel.de was already available in English, German, French and Spanish, it seems that the very good performances of the german site push the dreams of Hotel.de to become a fierce global competitor of the traditionnal online hotel reservation services.
It was kind of complicated to expand online activities considering that the domain name was already registered by major hotel companies in other countries:
hotel.com >> hotels.com >> Expedia
hotel.co.uk >> hotels.com >> Expedia
hotel.it >> hotels.com >> Expedia
hotel.fr >> Worldres
hotel.at >> hotel.de
hotel.ch >> hotel.de
hotels.cz >> hotel.de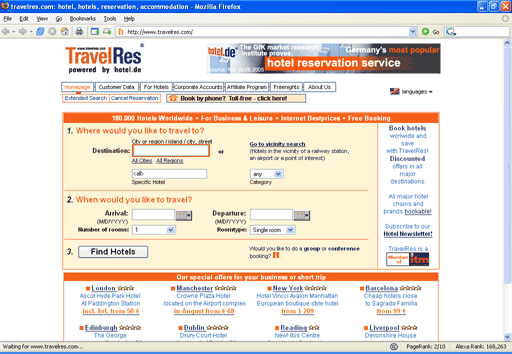 By the end of last year hotel.de became the leading hotel portal in Germany in terms of unique visits; it is at the expense of HRS (Hotel Reservation Service) who previously occupied that rank. Hotel.de consequently got better press coverage and reported very good results, with a 127% increase compared to the previous year (1.68 million room nights last year, booking volume of nearly 134 million Euros).
Going international can be seen as a logical move then. By having a closer look at the domain names that the company has registered (*.com *.fr *.co.uk *.de *.it *.es) we can easily understand the countries where the company will focus its attention. We can even suppose that the company has chosen a much wider termination for its domain name on purpose. Indeed with the word "travel" in its domain name, the company might plan one day to become a travel agency proposing airlines tickets, packages, cruises, car rental etc.
PS: If it was a stock, I would recommend to buy. To watch.

Quick Notes:
Hotel.de: 180 000 hotels worldwide.
Languages available: english/french/spanish/german/czech/italian
Travelres.com current alexa ranking : 168,263
Hotel.de current ranking : 6,250

Related posts: