9
04
2007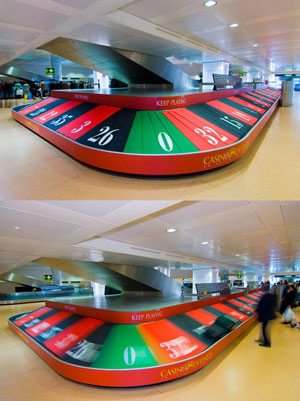 Absolutely great campaign of an Italian advertising agency (Admcom) for the promotion of the "Casino Di Venezia". They have turned a traditional and boring luggage claim belt into a giant roulette wheel at Venice Marco Polo Airport (VCE):
The agency has successfully spotted a real good place for their campaign ironically named "Keep playing". A good spot indeed, as people spend about 10 to 15 minutes (sometimes more!) staring at the belt while waiting for their luggages. This new kind of roulette will only bring one type of losers: the ones whose luggages have been lost!
According to the Venetian Casino, visits increased by 60% since the eye catching ad appeared at the airport. That seems a lot, but that's what you get for doing an original ad, with good visibility and a good sense of humor.
Via: Estering (for amateur pictures of the roulette) | Disruption
Related information about losing baggage:

Here is a recent survey of the Association of European Airlines (AEA).

Top 10 European airlines for losing baggage in 2006 (bags/1,000 passengers):

British Airways – 23
TAP Air Portugal – 21
Lufthansa – 18.1
Air France – 16.6
Alitalia -16.5
KLM – 16.4
Luxair – 16.4
Iberia – 15.5
LOT Polish Airlines – 14.8
Finnair – 14.2

• Virgin Atlantic, bmi, easyjet, Ryanair not included in survey
Comments :
15 Comments »
Categories :
Advertising
,
Ambient marketing
,
Travel