23
08
2006
There have been speculations about the name of the new spanish low cost of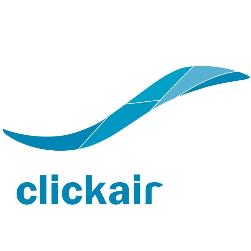 Iberia; formerly called Catair, the final name of the low-cost will be Clickair. Why choosing such a brand name? Basically because it will use the internet as a primary sales tool.
The budget airline has its headquarters in Madrid, but will operate from its Barcelona hub (Prat airport).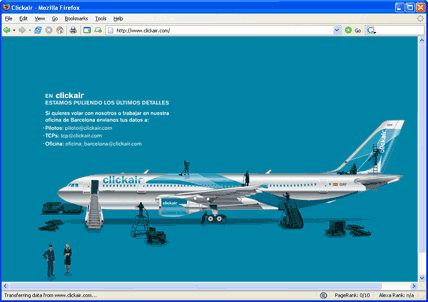 Ownership? Iberia owns parts of Catair Lineas Aereas (Clickair); it equally shares ownership (20% for each of the 5 owners) with the spanish Tour Operator Iberostar, Cobra, Quercus Equity (Grupo ACS – a spanish construction company), and Nefinsa group (Nefinsas being the owner of Air Nostrum).

Flying destinations? Clickair has confirmed it will start to fly to 12 destinations – 8 international cities: Amsterdam, Dublin, Geneva, Zurich, Prague, Lisbon, Oporto, Moscow, and 4 spanish cities: Bilbao, Malaga, Seville and Valencia. For the moment it will not fly to Madrid.
Fleet? The airline will start its activity with a fleet of 3 Airbus A320-200, then it will add an aircraft each month; the fleet size is expected to be around 30 aircrafts in 2008 and Clickair expects to reach up to 70 destination by 2008.
What's new?The good news is that unlike many other low-cost carriers, Clickair will only fly to the main airports of the cities it serves (hence no extra transportation costs for the budget travelers..
Belonging to Iberia, Clickair will be run as a separate company however Clickair's passengers will benefit from the Iberia Plus loyalty program. Clickair will also share flight codes with Iberia, meaning that Clickair fares won't only be sold on internet but also through the GDSs, following a different approach from the traditional low-cost strategy.
Rumors say that passengers will be offered theather and theme park tickets on board.
What's next? For the moment we are still waiting for the launch of the website; bad move for a company which is already created, announced and ready to go. Anyway I logically expect Iberostar to provide much of the hotel product of the coming website.
Any direct competitors? Barcelona-based Vueling and Air Madrid are direct local competitors, but also Ryan Air since Clickair has decided to open a route between Barcelona and Dublin. I guess Ryan Air should take Clickair seriously since Ryan Air lands its flights far from Barcelona center (In Girona, 103km from Barcelona city center) when Clickair lands at Barcelona's main airport. EasyJet, which has announced the opening of new routes in Spain is a seen as a tough competitor too.
According to Europa Press, the booking system that will be used on the website is Open Skies developped by Navitaire (a wholly-owned subsidiary of Accenture). This technology is also used by RyanAir, German Wings and VirginExpress just to name a few..
Comments :
1 Comment »
Categories :
Airlines
,
Low-cost airlines