6
09
2006
I can already hear some of you saying, "Google did not invent anything launching a click-to-call feature on the internet. That's true, Google is not innovating there BUT how many hotel's official sites offer this type of feature for their users? Not a lot, although there are companies that already propose this type of (great) services.
Basically it consists of placing a button on a webpage to allow the internet user to be called back for free immediately. The technology being involved is VoIP (Voice over IP).
Let's take a concrete example: Imagine you are confused with the cancellation policy of a hotel just before you validate your booking online. You will probably stop the process until you have a clearer idea of the policy (or maybe you will book somewhere else). Now imagine you find a button on this page saying that if you provide your phone number (that will remain private) you will get an immediate phone call from the hotel to support you for free..
I like the way new technologies influence the hotel industry (travel industry in general) but I clearly think that a mix of those new technologies backed up with a good old phone call simply does the trick.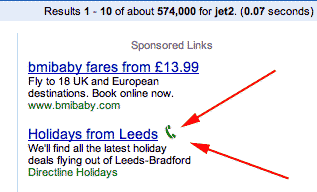 Now let's return to the main subject; Google has launched a Click2call feature for its advertising program. It will add a small telephone icon to the ads and will connect you with the company that advertises on google. Not a revolutionary feature since Miva already created this type of feature for its ads program (see a good demo here), but considering that Google benefit from an incredible online buzz, and since I never mentioned (on this site) this kind of features then it is the right time for me to cover the topic and spread the word.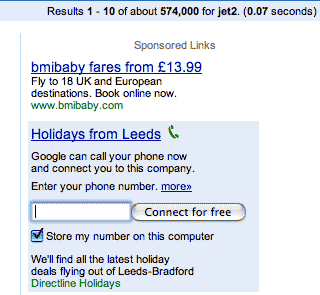 If you want to try a live demo of google Click-to-call, it is currently being tested in the UK see this basic faq. (if not living in the UK just add a proxy address located in the UK to your Internet Explorer properties and type "artisan hotel" on google.co.uk).
By the way Skype (now belonging to Ebay) powers this feature; concerning Yahoo UK, it has launched in Europe its click-to-call feature in August powered by eStara.
Source of the pictures:
http://davideichholtzer.blog.lemonde.fr/davideichholtzer/2006/09/clicktocall_goo.html
Comments :
2 Comments »
Categories :
Google
,
Hotel / Webdesign
,
Low-cost airlines