23
04
2007
Expedia.fr launched a new campaign of advertising in France. It started with a TV ad on national TV; this was the first TV ad for Expedia on public TV, before that, Expedia did TV spots but only for 15 channels on cable TV.
(Update: Expedia also sponsored TV shows on Canal+ and TF1 in the past.)
The name of this new campaign is "Expedia, le voyage que je veux." (Expedia, travel as I wish"). It is very similar to the famous slogan of Club Med : "Club Med, Le bonheur si je veux." (Clud Med, Happyness as I wish"). The spot draws a parallel between a tailor made clothing shop and the way a couple can customize its future vacations.
According to Marc Ruf, former Vice President of Expedia France:

"[Expedia] gives the ability to anyone to become its own travel agent. Who better knows the needs and desires of the traveler than the traveler himself?"
Expedia kindly sent me the link to watch their TV spot:
[display_podcast]
Besides this TV spot, Expedia also launched another wave of offline advertising on buses and on the walls of the subway with the following offline ads: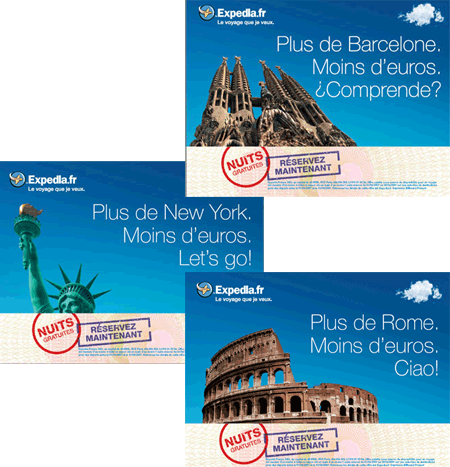 Comments :
8 Comments »
Categories :
Advertising
,
Offline advertising
,
Travel
,
Travel agencies