20
09
2006


I mentioned eStara in a recent post when talking about the click-to-call features of Yahoo (and Google); eStara has been acquired yesterday by ATG (NASDAQ: ARTG), a leading provider of e-commerce platforms.
Buying eStara (which provides Click to Call, Click to Chat, and Call Tracking Solutions) will enhance ATG Market-leading e-commerce offerings and will expands ATG's OnDemand Business.
Among the numerous clients of eStara, we can name Starwood Hotels and Continental Airlines. Talking about eStara clients, I just realized yesterday that eStara provides now its click-to-call technology to the french Yellow Pages (http://www.pagesjaunes.fr). Here is a capture of the features on their pages: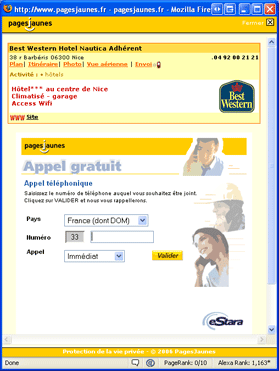 Art Technology Group (ATG) provides solutions to many actors of the travel industry, like American Airlines and Intercontinental Hotels. We will most likely see Intercontinental Hotels website with eStara features in the future.
See the press release on eStara website and some explanations of this stock and cash merger transaction between those 2 industry leaders, transaction is valued to approximately $48.3 million.
PS: Thank you Daniel for notifying me about this acquisition.

Comments :
5 Comments »
Categories :
M&A