6
06
2007
500 RSS Subscribers:

I am pretty happy to announce that Blog on travel finally passed the psychological barrier of 500 subscribers to its RSS feed today (via feedburner). It has been quite a long way to achieve this, you can see this in the graph below that shows the RSS Subscribers of this blog from the very beginning:

Thank you very much for all readers of this blog for adding our RSS feed to their favorite blog reader! If you aren't subscribed yet, please do it now by clicking this RSS link or by submitting your email on the right sidebar of this blog (you will receive a confirmation link by email that you have to click).
Here is another graph that shows the RSS audience of Blog on travel; 53% of the audience comes from the great RSS reader Netvibes (which I highly recommend), then 15% of the RSS audience comes from Google Feedfetcher. Google Feedfetcher represents all users that have added Blogontravel on their Google homepage or on Google Reader!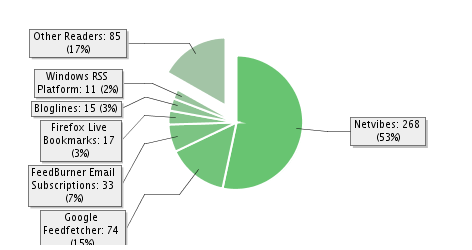 Note: Feedburner has just been bought by … Google!
SEO achievements:
I am also pretty happy to see that the Search Engine Optimization work I have performed for the last 6 months helped the blog to make it to the TOP 10 results of Google.com for the keywords "travel blog"; Blog on travel is now ranking 9th on the first page of results for those words.
PS: By the way thank you Google for updating the Page Rank to 4/10.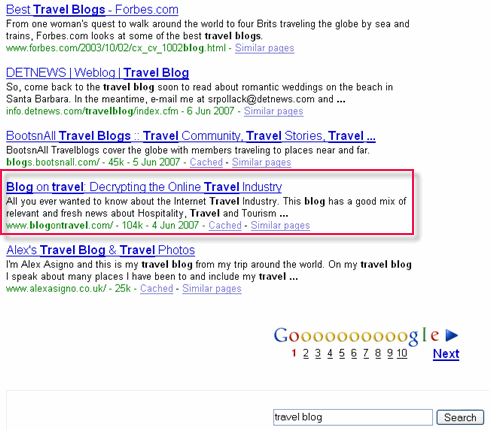 Forbes, Bootsnall, Travelpod and Lonelyplanet still precede
Blogontravel
in that ranking. I will keep you posted of major changes..
Comments :
27 Comments »
Categories :
Blogs
,
Egoblogging
,
Google
,
Google related
,
Travel blog