17
01
2007
I was surprised to see that some websites had snippets with their local business addresses in the pages of result of Google. If you click on the Plus Box it will expand and show up a map of the location right of your business right below the result like shown below. Clearly it makes it easy for customers to find your business online.
The hotel Aiken (by the way the hotel website uses wordpress) was the first hotel I saw using this great feature: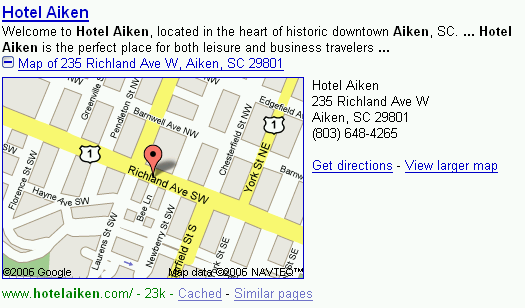 How does it work? Well it is quite simple, you simply have to register to the Google Local Business Centre, entering the details of your business, the category, phone number etc. You can also specify the operating business hours. It is totally free and google verifies your info via postcard! Once you have received the postcard from google, you will get a pin number that will be used to activate your account.
You can register your hotel, or travel agency right here: Google's Local Business Centre
Comments :
1 Comment »
Categories :
Google related
,
Hotel portals
,
Travel