28
01
2008
Wandering around the internet, I was searching for 2 different things at the same time: a hotel for a romantic weekend getaway (with our lovely dog!) and a new apartment to rent. I suddenly asked myself: "Why not renting a vacation home instead of booking the usual same type of hotels (those few hotels that still accept dogs) for our long romantic week end?"

Actually I know quite a lot of people that work in the Real Estate industry (basically intermediaries between owners and renters), and I am often amazed to see that while everything goes 2.0, real estate is no exception. My online research for the right property made me discover Domegos, which is a vacation rentals directory that aims to connect owners and renters. It is an alpha version as they just launched but it is very promising.
Curiously what first grabbed my attention were all the advantages for vacation rental owners (not real estate agencies!) to list their properties for free on this Real Estate 2.0 platform. Each property gets six pages, 14 photos (that's quite a lot), an interactive map (via a Google Maps mash-up), customer feedback form, offer management, and an availability calendar. Not bad, isn't it? Apparently most vacation rentals listing sites don't have quite that breadth of tools and features.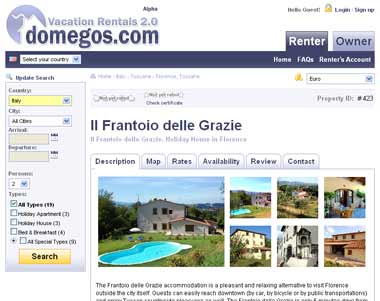 Seeing that benifiting from all those features was free of charge for owners, my second thought was: there must be some type of hidden commissions that the renters would pay (me in this case!). Again, I was nicely surprised to see there are no fees whatsoever for the renters, no commission charges for mediated booking, nothing, nada!
All in all, Domegos is clearly not an intermediary in the selling process but more of a facilitator helping owners and renters to do business easily. A skilfully free vacation rentals directory. I recommend it for my (lucky) owner friends and for renters as well (try the email alert system that warn you when system matches your needs).
Comments :
5 Comments »
Categories :
Real Estate
,
Real Estate 2.0
,
Travel