21
08
2006
The now "old school" online travel sites (like Expedia, Orbitz, Travelocity) have to compete with meta-search sites that aim to gather travel fares and hotel rates faster than it takes us to browse and query all the best online travel sites from our bookmarks to find out the cheapest prices. They are like a google for travel. They basically search for travel deals, just like google searches for content. 
This generation of new travel sites is quite competitive; One could think that once they will have integrated most of the major travel players, all those aggregators will probably create (competitiveness but also) confusion to the internet customers as they won't know which aggregators to choose (Mobissimo, Sidestep, Kayak, Yahoo Farechase etc.) and will have to price compare the aggregators! 
Mobissimo is one of those clever online travel aggregators, which retrieve fares and rates from a lot of different travel agencies in order to simplify your online experience and save you time and money.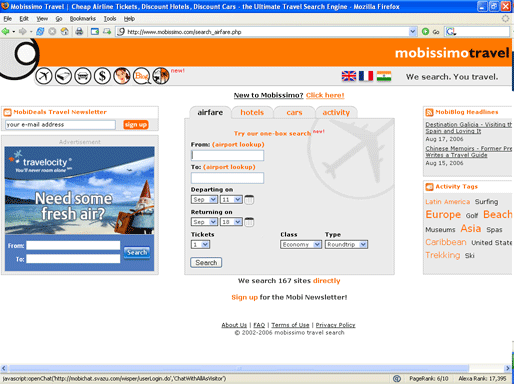 Mobissimo defined itself as the "ultimate travel search engine". By "ultimate" one could understand that it uses the ultimate technologies to offer to its customers the best deals.
It positions itself as a technology driven aggregator using the ultimate features the web 2.0 brought us.
I am delighted to see the very "blog oriented" Tag Cloud on the right hand side of the frontpage called the "activity tag". This is a very neat way to search for content on a website, although I would have loved to see a filter to permit to add more than one tag.. There is also a RSS feed for headlines from the site and a special new tab for activity search.
The Virtual Concierge:
It is basically an online bot that answers to simple travel queries. Here is a basic query I did to test the bot nicely called Lucy! See the results found on bookings.net.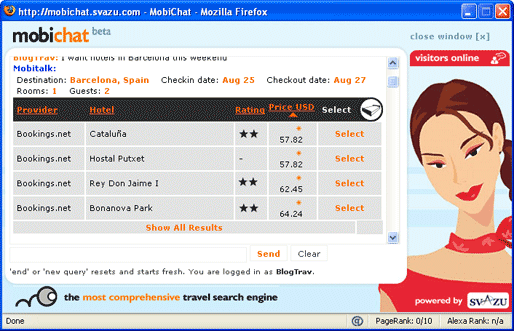 Here is a video of the CEO and co-founder of Mobissimo Beatrice Tarka; this is an exclusivity of Rodrigo A. Sepulveda Schulz (Ceo and founder of www.vpod.tv)
Comments :
2 Comments »
Categories :
Aggregators