23
07
2007

Surprisingly the Spanish online travel market is not saturated by the emergence of aggregation and comparison engines; there is still space for newcomer(s) to enter this segment of the online travel industry. That's what Minube.com (that literally means "My Cloud" in Spanish) did today by launching this new flight/hotel aggregator "Minube".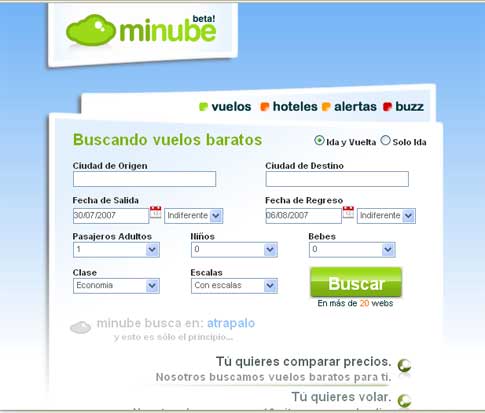 Minube.com referred itself as being a web 2.0 site. A simple, clean and original design with green, red and orange clouds! It uses features that made Web 2.0 sites so convenient such as the suggestion search box; as you type in a query it will display the available cities/countries/airports dynamically via some AJAX. Pretty useful when you don't know how to spell those Spanish cities or when you don't know the airport name of your destination.
Of course it also integrates maps from Google maps (I did not manage to see the mapping of all hotels of the first page of result on one map), and reviews (reviews are not moderated yet). The good thing is there are no reviews on the system yet, it starts from scratch. One of the problems of Tripadvisor is that they are still showing client reviews that are very old, totally outdated although the owner/management team of the hotel has changed or the hotel has been fully renovated.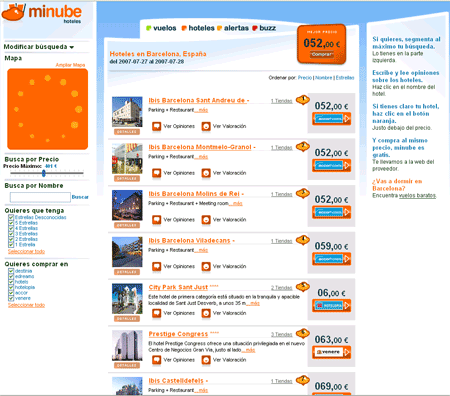 As a traditional travel aggregator, Minube compares the prices of a lot of different travel agencies (Atrapalo, eDreams, TerminalA, MuchoViaje etc.), airlines (low cost airline such as Vueling, Clickair) or hotel portals, and shows the best price found (with no additional fees).
The page of results of a hotel search is very similar to SideStep results page, as there is a slider control to determine the "price range" that you can adjust according to your budget/needs. I did a comparison between Sidestep and Minube for the same date (last minute booking) in Barcelona and I was pretty happy of the results; specially because Minube found many more hotels with cheap rates. This is no surprise as they already work with a lot of local providers (see paragraph below).
Here is an extensive list of the hotel providers, airlines, and online travel agencies that Minube partnered with: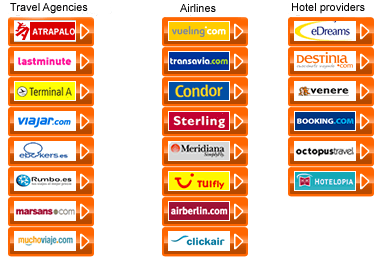 All in all, after I spent 15 minutes playing with this new aggregator, I felt pretty impressed by this beta version of Minube. They start with a good design, a lot of partners (even though some are missing), and good web 2.0 functionalities and features (recent searches, travel fair, filters of travel agencies, event calendar). It definitely has its place among its Spanish competitors, HotelAdicto, Trabber, Tsales (any other I missed?). I believe they will be launching a version for the french market soon called MonNuage.fr according to what I read on their blog. Congratulations!
PS: I havent had time to try the "alert engine" but I already like the idea. I believe it is similar to what Orbitz does, by keeping searching for the price and dates you have requested and sending you an alert by email once it has been found! I'll try this tomorrow but I needed first to share this with you.
Comments :
16 Comments »
Categories :
Aggregators
,
Internet Distribution
,
Travel
,
Travel 2.0