12
07
2007
Two days ago Mario Hidalgo, CEO of the Spanish airline "Hola Airlines" , announced that Hola Airlines (Baleares Link Express SL) has been obliged by the US government to stop its operations in Cuba .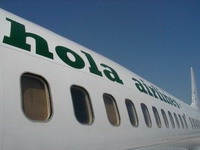 The US Government threatened Hola Airlines via Boeing to end the service of maintenance of the Boeing aircraft belonging to the carrier. As its fleet is entirely composed of Boeing aircrafts, Hola Airlines has been forced to give up its operation in the Carribean Island overnight.
The US government applies the 1996 Helms-Burton Act that prevent non north-American countries from trading with Cuba by penalizing foreign companies.
The Helms-Burton Act was condemned by the Council of Europe, the European Union, Canada, Mexico, Argentina and other U.S. allies that enjoy normal trade relations with Cuba.
Mario Hidalgo made it clear that this decision goes totally against the company's will: "This decision is unfair, specially for Cuban people" and added he was "against US politics towards Cuba."
Most Commented Posts